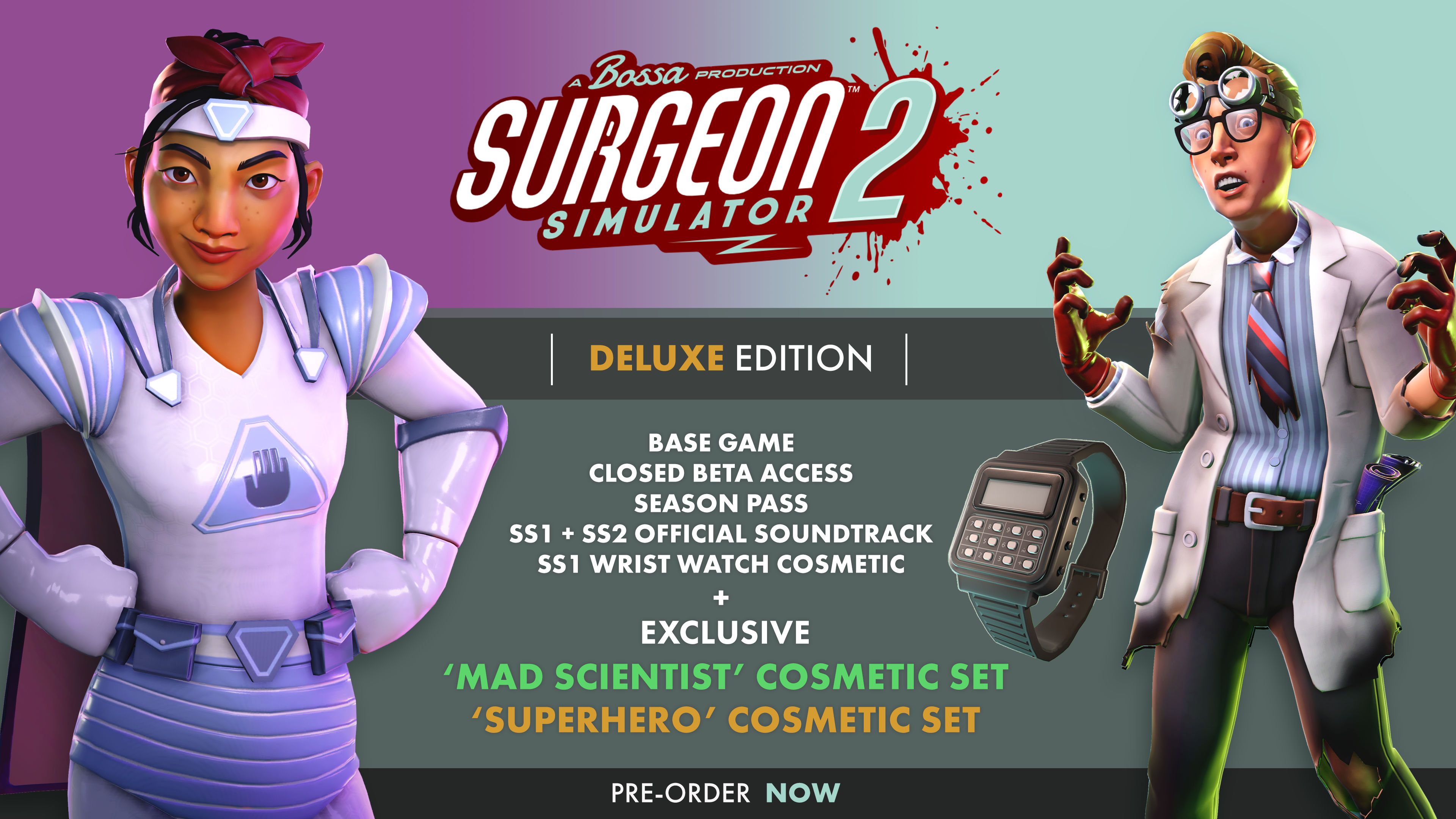 Pre-Order Surgeon Simulator 2 Now for Exclusive Items!
As you know, the hospital curtains were finally drawn back on Surgeon Simulator 2 this week, when our beloved operation sim was fully unveiled to the world at the PC Gaming Show.
If you haven't yet watched our spine-tingling new Gameplay Reveal Trailer, then cast your eyes on it here! As you'll see, surgery remains at the heart of the experience, though new to the series is four-way multiplayer, as well as the Bossa Labs Creation Mode - the very same tool used by the development team to create Surgeon Simulator 2! In this mode, not only will you be able to create your own levels and experiences with up to three friends in a live, online environment, but can then share those creations online for other players to experience.
As for when Surgeon Simulator 2 will be released, well, August 2020 is the current word on the ward, with more news on that very soon… In the meantime though, the good news is that you can now pre-order the game from the Epic Games Store. And by doing so, you'll not only unlock Closed Beta access later this year, but will receive time-exclusive cosmetics with both the Standard and Deluxe Editions.
So, what exactly does arrive in each of the Surgeon Simulator 2 editions?
Standard Edition
Standard in name only, the default Surgeon Simulator 2 package not only grants an early hands-on of the game later this year by way of an exclusive Closed Beta, but also includes the Mad Scientist cosmetic set. A timed-exclusive, available only by pre-ordering, the set includes four cosmetic items, wearable by all characters… and brings an entirely new meaning to the term, smoking jacket.
Pre-order the Standard Edition here!
Deluxe Edition
Those looking to really get their heartbeats racing need look no further than the Surgeon Simulator 2 Deluxe Edition! As with the Standard Edition, it arrives with both Closed Beta access and the truly-smoking Mad Scientist cosmetics set. In addition you'll also receive the time-exclusive Super Hero cosmetics set (includes four cosmetic items wearable by any character), the original Surgeon Simulator Wristwatch cosmetic, the official Surgeon Simulator and Surgeon Simulator 2 soundtracks and, last but no means least, Season Pass Access (this includes 3 Expansion Packs, each comprising of a Mini-Campaign, a new character, and new cosmetic Items to unlock in the Campaign).
Pre-order the Deluxe Edition here!
 
 
So what're you waiting for? Pre-order Surgeon Simulator 2 now from the Epic Games Store and scrub up with a selection of exclusive cosmetics. Doctor's orders!